Men's Ministry Survey 2017
January 6, 2017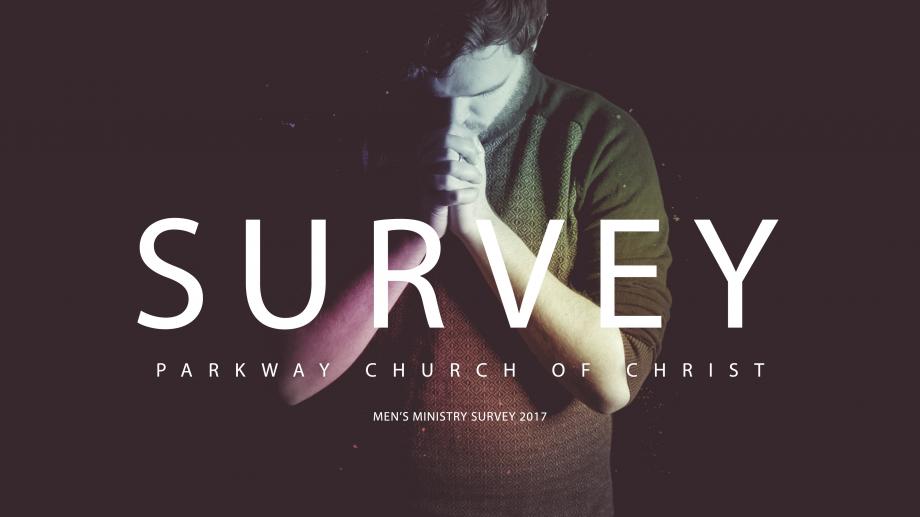 Click Here to participate in the survey: https://www.surveymonkey.com/r/parkwaycoc

Dear men of Parkway,

Thank you for partnering with us to reach more people in our community for Christ! Your participation at Parkway is vital to fulfilling the Great Commission.

We are in the process of putting our 12 month plan together for men's ministry and wanted to assess what are your thoughts, your needs and your priorities are for YOUR spiritual walk over the next 12 months.

To that end, enclosed is a brief survey that we are sending to all of the men of Parkway ages 16 and above with hopes that we will learn more about you and your priorities.

We want find ways to help you to be who God designed you to be.

We also want to identify ways to effectively reach out to our community together.

Please complete the survey in one of three ways (it should only take you about 10-20 minutes to complete):
Click here to partipate in the survey: https://www.surveymonkey.com/r/parkwaycoc
Using the link in the e-mail that has been sent to Parkway men.
Or pick up a copy to fill out and return when you come to Parkway for worship.
We respectfully request the return of your completed survey NO LATER THAN SUNDAY, JANUARY 22.
A drawing will be held of all the names of those who have completed their surveys by the deadline.
There will be 4 prizes each of a $25 Starbucks gift card. We will have a table at Parkway staffed with some of our men to answer any questions you may have.
We are eager to better serve the men of our church and community!
Please support this effort by giving us your honest feedback through this survey.
Blessings,
Stanley Winters
Minister and Elder
Survey Link Click Here:
https://www.surveymonkey.com/r/parkwaycoc
Back